Chess Fundamentals
MathAltitude offers a 12-week course during our school-year program and a 6-week course during our summer program.
The Benefits of Chess: Planning, Confidence, Patience, Discipline.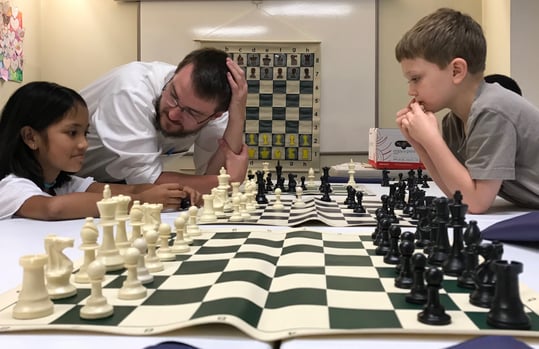 The goals of the beginner level chess program are to teach children the fundamentals of chess, to develop analytic thinking, attentiveness and self-discipline and self-control. Children will learn the Chess ABC's, chess history, and elementary chess strategy. Our intermediate level course develops the skills learned at the beginner level.
"According to research, test scores improved by 17.3% for students regularly engaged in chess classes, compared with only 4.6% for children participating in other forms of enriched activities," states 4-time World Champion Susan Polgar. Chess has long been regarded as a game that can have numerous beneficial effects on development of a child, especially when it is played from a young age:

Chess helps to increase a child's cognitive perception, reasoning and decision-making skills, improves ability to concentrate on a particular task and function.

Learning to engage in deep and thorough chess research often helps the students to build confidence in their ability to do academic research.

Students involved in chess programs exhibit excellence in the ability to recognize complex patterns and consequently excel in math and science.

Chess calls upon higher-order thinking skills, analyze actions and consequences, and visualize future possibilities.
Chess for Beginners - The course consists of instruction, play, and group work. No prior knowledge of chess is needed. Classes meet once per week for 1-hour. (Grades 1-5)
Intermediate Level Chess - The course consists of instruction, play and group work and develops skills learned at the beginner level. Classes meet once a week for 1.5 hours. (Grades 1-5)
Contact us for availability of classes